Somers Town
Mike Leigh take note - THIS is how you make an upbeat film.
Released in 2008, certified UK-Not Yet Rated. Reviewed on 22 Jun 2008 by
Drew Tavendale
One of the best directors currently working in Britain, I have yet to see a bad Shane Meadows film. And with Somers Town, a tale of friendship in difficult circumstances in central London, the man from the Midlands continues his remarkable hitting streak.
Based on an idea by a London advertising agency, Somers Town began as a short film funded by Eurostar to celebrate the transformation of the St. Pancras station and its surrounding area (the Somers Town of the title, an area just south of Camden). Shane Meadows joined the project as director and Paul Fraser's original screenplay was expanded to become a feature-length film.
The film is the story of two teenage boys, both newly arrived in London. The natures of their situations are very different but both are equally lonely and adrift in an unknown place. The first boy is Marek (Piotr Jagiello), a Polish immigrant, who lives in a small flat with his father, a labourer on the nearby rejuvenation of St. Pancras train station into London's Eurostar terminal. His father, Marius (Ireneus Czop), clearly cares for Marek, but he too is struggling to find his way in this new country and after a long working day he spends most evenings getting drunk with his Polish friends. Left much to his own devices, Marek whiles away the hours taking photographs of the Somers Town area and its residents, notably Maria, the beautiful French waitress at a local caf?.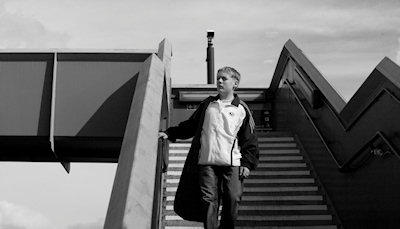 A chance meeting one day at this caf? introduces Marek to 16-year old Tomo (This is England's Thomas Turgoose), who has run away from the children's home where he lives in Nottingham. Though their first meeting could certainly go better, Tomo and Marek begin to spend more time together and find in each other something which they both desperately need - friendship.
Having nowhere to stay other than the mean streets of Camden, Marek secretly allows Tomo to stay in his flat under his father's nose. They spend their days together and as their friendship grows stronger the boys share their love of Marek's photographic muse, Maria, and perform odd-jobs for local Del Boy wannabe Graham (Perry Benson), using the proceeds to buy gifts for Maria. When Maria unexpectedly and abruptly returns home to Paris, the boys have each other to lean on as they experience the pain of love's first loss.
Partly based on improvisation from the actors during extensive rehearsals, the performances from all involved are wonderfully natural. Meadows trusts his young charges enough to allow them to act through scenes as one continuous take, and the film is all the more effective for it. There is potential in some scenes, notably those with wheeler-dealer Graham or some pilfered laundry, for the film to descend into farce, and in lesser hands it could well have done so, but everything in Somers Town feels utterly believable.
Turgoose was a real revelation in This is England, and he shows here it was no fluke. It's unusual to see such skill and assuredness from one so young and it promises hugely for the future. He's given more than adequate support, though, from young Pole Jagiello, whose quiet and understated performance as Marek compliments perfectly Turgoose's more boisterous Tomo.
For a director known for more downbeat films, Shane Meadow's Somers Town is everything Mike Leigh's abysmal Happy-Go-Lucky was not but should have been. Though shot almost entirely in black and white, the film radiates sunshine, and is genuinely and pleasingly uplifting. Somers Town is the stand-out film so far of this year's Edinburgh International Film Festival, and alongside Dan in Real Life and There Will Be Blood is a strong contender for film of the year.
This rewarding and joyous piece of cinema garners a score of 5 out of a possible 5 nodules of filmy goodness.
Director:
Shane Meadows
Cast list:
Thomas Turgoose (Tomo)
Piotr Jagiello (Marek)
Ireneus Czop (Marius)
Elisa Lasowski (Maria)
Perry Benson (Graham)

---