When A Stranger Calls
...hang up.
Released in 2006, certified US-PG13. Reviewed on 15 May 2006 by
Craig Eastman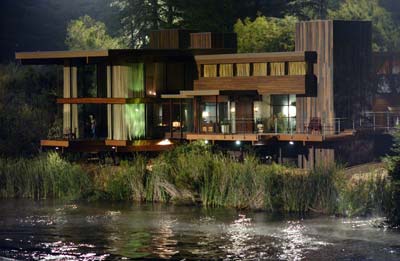 Ooooooooh, guess what? Yes, it's another Completely Disposable PG-13 Teen Horror Of The Most Bland Variety Imaginable. Yay! I was just running out of those. It'll save me going down to the 24 hour supermarket to buy another one. Awesome.
Well, actually not awesome, since When A Stranger Calls is, as you have probably by now guessed, yet another entirely needless and unwanted remake of a horror movie which I am lead to believe by credible sources wasn't particularly great to begin with. And I must stress here that the word "horror" is used in the most terse sense imaginable, given that there's precisely NO BLOOD AT ALL, and despite the opening scene's HORRENDOUSLY BRUTAL MURDER involving A YOUNG GIRL HAVING HER GUTS RIPPED OUT, we only appreciate the heinous nature of the crime because a FAT MIDDLE-AGED POLICEMAN who has probably SEEN ALL KINDS OF SHIT over the years is so stressed out by the sight of it that he HAS TO SIT DOWN. Yes, it's that disturbing, and we'll just have to take the FAT POLICEMAN'S word for it lest we all pee our beds in SHEER ABJECT TERROR.
Enter stage left Camilla Belle, young sapling of The Lost World: Jurassic Park and The Patriot distinction, and now at 20 a fully-fledged hottie. She, rather imaginatively, plays a BABYSITTER named Jill who is forced to look after some MOPPETS to pay off a huge mobile phone bill (sic) rung up on her parent's account. The home in which these children live is quite preposterous in design, location and scale, but then daddy is a doctor, WHICH EXPLAINS EVERYTHING. Over the course of the evening, or rather 60 minutes in the movie's graciously brief 80 minute run time, poor Jill receives a number of SCARY PHONE CALLS from a BAD MAN with a SCARY VOICE. The BAD MAN tells Jill he wants to kill her, and when the police TRACE THE CALL they find out the BAD MAN is already IN THE HOUSE!!!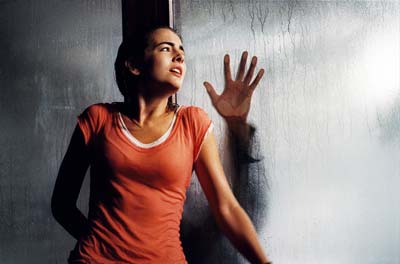 Now, I don't know about you, but this is more EXCITEMENT, more DANGER, more THRILLS and definitely more EXCITINGLY DANGEROUS THRILLS than I think I can reasonably be expected to cope with. Thank goodness Hollywood produces such lovingly crafted and highly efficient works of horror genius, while somehow managing to stay safely within the PG-13 bracket. Heaven knows how they do it, but I'm so glad they can because how else would I satiate my desire for the finest quality in cinematic entertainment?
DIE, DIE, FUCKING DIE YOU USELESS FUCKING BAND OF FUCKING WASTRELS. I WILL MASSACRE YOUR FUCKING FAMILIES AND DANCE DOWN THE FUCKING HIGH STREET NAKED EXCEPT FOR THEIR FUCKING FESTERING ENTRAILS WRAPPED AROUND MY GOD DAMN FUCKING PRIVATE PARTS WHILE I SCREAM OBSCENITIES AT THE NAMES OF YOUR PATHETIC, DECEASED FOREFATHERS.
Need I continue?
I award this fucking nonsense 1 out of 5 "Oh, Fuck Right Off" Units. Please pardon my language. I'm not proud of it.
Director:
Simon West
Cast list:
Camilla Belle (Jill Johnson)
Tommy Flanagan (Stranger)
Lance Henriksen (Voice of Stranger)
---