Withnail and I
The finest collection of quotes known to humanity...
Released in 1987, certified UK-15. Reviewed on 26 Dec 2002 by
Craig Eastman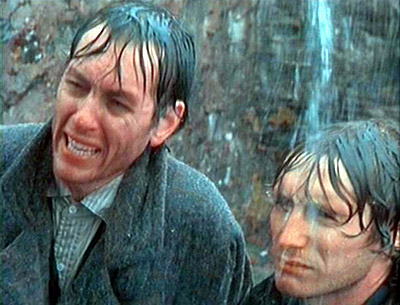 There are films which set out to enforce an important moral point or consideration, and there are films that aim merely to entertain. Withnail & I focuses on the lives of two unemployed actors living in Camden, London circa 1969. They swear lots, drink lots, and imbibe narcotics lots. Guess which category we're dealing with here...
Richard E. Grant and Paul McGann excel in their roles, which could so easily have been misinterpreted. Grant is Withnail; constantly drunk, paranoid and cursing (mostly all at the same time). McGann is "I", otherwise known as Marwood. His approach is more reserved, or perhaps it would be proper to say "less psychotic", than that of Withnail. Together the pair occupy a flat in Camden which through neglect looks rather like a bombsite. Fed up with their lack of money, work and booze, and impromptu visits from Danny the spaced-out drug pusher (excellently played by Ralph Brown), the pair decide a holiday is in order. The keys to a country cottage are procured from Withnail's covertly camp uncle Monty (Richard Griffiths in fine form), and the pair disappear into the rural sanctity of Penrith, where they soon discover there's a lot less to be paranoid about in the city.
Withnail & I proves you don't need a plot to make a wonderful film. It's a rare example of a piece that works pretty much on humour alone, and most of the thanks must go to the two leads. It's easy to imagine a film like this going horribly, horribly pear-shaped, but Grant and McGann both display nuance and comic timing which has rarely been bettered. Even the bit-players come together wonderfully as part of the manic fabric, and there are few characters who fail to get a cracking line of their own.
Indeed, Withnail... is a film brimming with superlative dialogue which does much to carry the comic momentum. It's easy to see why this has become one of the most quoted films of our time, and age has done nothing to weary it's charm. From the outrageous ("Right you fucker, I'm doing the washing up!") to the subtle ("Flowers are essentially tarts; prostitutes for the bees..."), few lines miss their mark, and it's hard to imagine Withnail... working without them.
That Withnail... can call itself a cult classic is beyond doubt, and it's obvious why it's become a favourite with students in particular. However, to categorise it in such a minority grouping is to do the film a huge disservice. Anyone at all with an interest in character and humour will find something to take home, and everyone will have their own favourite line. My advice for viewing pleasure would be to roll up a Camberwell Carrot, rub yourself in Deep Heat and demand a glass of the finest wine known to humanity. I guarantee you a dose you'll never run a mile from.
Craig Disko inexplicably found himself performing four out of a possible five pelvic thrusts as a result of watching this film.
Director:
Bruce Robinson
Cast list:
Richard E. Grant (Withnail)
Richard Griffiths (Monty)
Paul McGann (I, aka Peter Marwood)
---