Batman Begins
And on this evidence he deserves to continue.
Released in 2005, certified UK-12A. Reviewed on 21 Jun 2005 by
Craig Eastman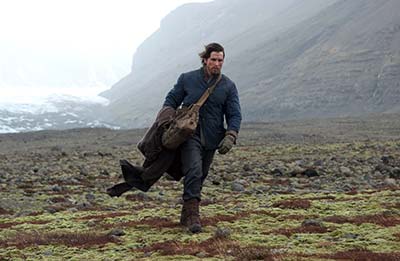 After the franchise nadir that was Batman & Robin, Warner would be forgiven if they tied their formerly lucrative license up in a hessian sack with some bricks and threw it in the river. Still, comic licenses are hot again, and you don't get much higher profile than Batman. Given that the general public's goldfish-like attention span will have no doubt rendered tortuous memories of the previous debacle obsolete, the men in suits clearly decided that the time was right to take a stab at re-inventing the winged warrior and cashing in on the current trend for superhero shenanigans. Normally in these circumstances we at the Oneliner would walk into the cinema off the back of a very stiff drink and ready the cyanide capsules hidden in our molars. On this occasion, however, the signs are looking good.
In an unprecedented fit of sensibility, Warner decided from the outset that they were damn well going to do this right. Originally offered to Pi and Requiem for a Dream helmer Darren Aronofsky, that director's vision of a low-budget, R-rated down and dirty Batman movie was certainly commendable but, as appealing to the fans as it may be, understandably not quite what the money men had envisaged. Ultimately the task has fallen to Christopher Nolan; he of Memento and Insomnia fame. BIFF!!! David S. Goyer (the Blade trilogy) is the man responsible for hammering out the script. BANG!!! Best of all though, and this is the real coup, someone somehow managed to sit Christian Bale down, fit him for the famous black suit and get him to sign a contract committing the actor to at least three Bat pictures. KERPOW!!!
Two years in the making and we're finally privy to the dawn of the new Bat era. Has it been worth the wait? You'd better believe it. All that planning and preparation has really paid off, and for once a lot of the kudos are due to the studio. The lion's share of praise does however remain with the cast and crew who are all, pretty much without exception, uniformly excellent. Thank the heavens we're out of the Attention Deficit Era of the eighties and nineties where mass market meant ninety minutes and under, because Goyer's script demands time and space to set things up properly. Much has been made of this installment effectively erasing all other entries in the series by going right back to basics and showing us the genesis of Bruce Wayne's alter ego (a fact also alluded to in a coda that suggests The Joker may well be the protagonist of the next movie), and this can only be a good thing. As the latter entries to the saga became increasingly camp, so it has become necessary to eradicate the rot entirely; something that Goyer and Nolan thankfully seem to have grasped from the very outset.
The direction of the movie (and subsequently, hopefully, the next entries) is heralded from the outset with Bruce Wayne as a child experiencing his first defining moment in life when he falls down a well and is besieged by those nasty, swarming bats that will plague his nightmares well into adolescence. It's here that the movie's primary theme of fear, and power through conquering this fear, comes to light, and Goyer's script never loses focus of this. After a batty flashback causes the young Wayne to request his parents take him home from the theatre, mommy and daddy are mercilessly gunned down in a back alley by a mugger. Years later at the hearing, an older, stronger but no less fearful Wayne fails to exact his revenge outside the courthouse and it's this that prompts his transformation into shadowy avenger at the hands of legendary warrior Ra's Al Ghul. Leader of the nefarious League Of Shadows, Ghul is more than a little miffed whence upon completion of his training Wayne decides that using his powers to kill isn't really in keeping with his ethos and blows the shit out of the training camp, making his getaway back to Gotham and leaving Ra's for dead.
Most other movies would be happy to skip straight to the revenge part; randomly blowing stuff up and no doubt delivering an endless string of pithy one liners to punctuate the carnage. Batman Begins clearly has designs on shaking things up, for instead of pyrotechnics and profanity we get (drum roll, please)... character development! Now what we the public have done to deserve this is beyond me, but I for one am certainly not going to complain. While the whole "Ra's Revenge" plot line builds slowly in the background via some sub-pots involving Batman comic favourites Carmine Falcone (Tom Wilkinson) and Dr. Jonathan Crane, AKA The Scarecrow (Cillian Murphy), Nolan and Goyer focus most of their efforts on building the layers of Wayne while simultaneously dissecting his personal battle against his fears. It's been a while since we've been treated this well by any mainstream movie, let alone a comic franchise, but the feast is all the better for the famine.
The only downside to all this thorough exposition is that the action, when it does eventually put pedal to metal, feels slightly misplaced. Not that it isn't enjoyable or spectacular (especially given Nolan's refusal to use CG unless absolutely necessary - yes that is the Batmobile driving over actual rooftop sets), it's just that in comparison to the human aspects of the picture it seems a little, well, cartoony. Still, at least the technology precipitating all this action is sensibly explained rather, than just explained away. From the "too expensive for the military" Batmobile redesign that's both modern and practical, to the memory cloth cape and various other utility belt regulars it's nice for more than just a little lip service to be paid to such things, and ultimately it makes the whole affair more believable. Well, relatively speaking of course.
And so we come to Bale. Despite proving his acting credentials with some thoroughly outstanding and committed turns in the likes of American Psycho and, more recently, The Machinist, many casual viewers may not be all that familiar with Bale. Given that the Batman name pretty much sells itself, Warner have cannily snared an actor who they know can deliver top flight goods without breaking the bank. After all his years of hard work Bale certainly deserves the profile boost the movie will bring, and on the evidence presented here he clearly warrants inclusion on the A list. His support couldn't have been much better either. Michael Caine may not have a hell of a lot to do comparatively as butler Alfred, but his few lines and limited screen time are capitalised on well with a charm and savvy that effortlessly delivers a welcome injection of heart and humanity.
The assembled forces of darkness also have less to do than you might expect, though fortunately the actors responsible make good work of the script. This reviewer certainly hasn't seen Liam Neeson perform so well in anything for quite a time (though admittedly I missed his turn in Kinsey, and as the treacherous Ducard he certainly fits the bill nicely. Tom Wilkinson and Cillian Murphy might have been used better, although they both perform minimal duties with more than the required competence, and the latter especially gets to shout and gurn a little which can't be bad. Similarly Gary Oldman kicks his heels a little in the role of Jim Gordon, though presumably as the story continues he'll shoulder more of the plot and eventually end up Commissioner (cue the Batphone!). The only real disappointment is Wayne's childhood sweetheart Rachel Dawes, played by Cruise-to-be Katie Holmes. Despite the fact the audience are supposed to care enough about her kidnapping to gee themselves up for one key sequence, a combination of thin characterisation and a complete lack of charisma on the young lady's part renders the entire episode redundant. Kirsten Dunst she is not (mmmmm, Duuuuunst...), but it's a relatively minor niggle in an otherwise superbly polished package.
Nolan has doubtless cemented his name alongside the likes of Doug Liman as a director versatile enough to deliver intimate and mass-market, though in terms of quality Batman Begins is streets ahead of Mr. & Mrs. Smith. Wether or not he'll accept the job of directing installment two remains to be seen, but I for one have my fingers firmly crossed. The challenges Batman Begins faced were mountainous, yet Nolan and co. have come out smiling, and no doubt the bean counters at Warner will be doing likewise. For once though I'm not really complaining. If studios want to expend this kind of effort in delivering quality summer fare I'm more than happy. Between the X-Men and Spider-man franchises, and now the promise of a rejuvinated Batman brand, fans of the shaded cell have never had it so good. KERBLAM!!!
I award this movie 4 out of 4 Units What We Use
Director:
Christopher Nolan
Cast list:
Christian Bale (Bruce Wayne / Batman)
Liam Neeson (Ducard)
Michael Caine (Alfred)
Katie Holmes (Rachel Dawes)
---