Closer
Closer to perfection than most, marred only by it's general bleakness.
Released in 2004, certified UK-15. Reviewed on 16 Jan 2005 by
Craig Eastman
Regular readers of our lovingly nurtured site will be well aware of my stance on Julia "Satan" Roberts. What they may not know is that I am nothing if not a fair and honest chap. With this in mind I face you fine, upstanding people and offer my judgement that CLoser, the latest offering from director Mike Nichols, is that rarest of beasts: a Julia Roberts movie. I. Liked. And liked a lot, I have to say. Adapting his own stage play for the big screen, writer Patrick Marber (a Steve Coogan regular; Alan Partridge fans think "Am I right? You're not wrong!") has delivered into the hands of Nichols an absolute scorcher of a script of the kind we so rarely see these days, ie. a drama for adults that actually treats it's audience as such.
After a pedestrian/traffic interface of minor proportions, smalltime writer and obituary journalist Dan (Jude Law) finds himself in the rather charming company of young American Alice (Natalie Portman), whose sassy magnetism soon sees the pair together as a couple very much in love. In love, that is, until Dan falls for photographer Anna (Roberts) who is snapping him for the sleeve of his latest novel. The pair do that whole "sidestepping" thing until an internet chatroom prank instigated by Dan upon an unknowing dermatologist named Larry (Clive Owen; Bond, Bond, Bond, Bond!) brings the doctor and Anna together, leaving Dan feeling somewhat leftout considering he's planning on telling Alice he no longer loves her. What follows is a frank, compelling and painfully true study of the nature of modern relationships which, while played out against a largely middle-class backdrop, manages to neatly sidestep social scale issues thanks to some stupendously accomplished performances. And yes, that includes "The Roberts".
Amidst all the partner-swapping, backstabbing emotional hokey-kokey it would be incredibly easy to feel increasingly disaffected and removed from even the smallest iota of care; the leads are after all for the most part a bunch of superficial zeroes. Marber's razor sharp dialogue triumphs over this, however, by revealing not only the protagonists' rampant selfishness in the face of infidelity, but also for once the fragility of their emotional state. This is a film where men cry at agonisingly true moments, such as when Owen's character launches an expletive-fuelled diatribe against Roberts' unfaithful new wife before collapsing under the weight of his own insecurity. That he somehow manages to display charm and humanity at the same time turns a frankly two-dimensional bastard into a figure of sympathy with whom I'd imagine more than a small percentage of the male audience members should feel some degree of empathy. I know I certainly did.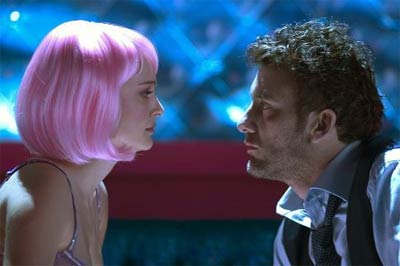 It's through this combinatiion of honesty and vulnerability that Closer scores it's biggest points in winning over the audience. Owen (who played Dan in Marber's stage production) is a veritable tour de force as Larry, his frank and explosive temperament nailing the viewer's arse firmly to their seat just when you though it was safe to fidget in your seat. Law, while perhaps a little less convincing, also manages one of if not his best performances yet, bringing the requisite emotionally hollow quality to his largely incisive portrayal of Dan. In the few moments shared between the two male leads they skirt tantalisingly close to lightning in a bottle. In fact, come to think of it pretty much every moment of interaction between Owen and the other performers achieves such a result, even when he's emoting against a (admittedly purposefully) cold and callous Roberts.
Perhaps surprisingly though it's the still relatively untested Portman who steals so much of the limelight, and not just because in her cute pink wig she cuts an extremely alluring turn as a stripper. No, despite being burdened by the desires of a trillion sad Star Wars fanboys the young lady is equally as powerful onscreen as her older counterparts. Boldly holding her own against such heavyweight support and packing just as brutal an emotional punch as her elders, Portman oozes sexuality, maturity and vulnerability in equal measure, making it easy for the audience to see why both Dan and Larry fall for her undeniable charm. Not that it's meant as an insult to the great Nichols, but with performances like these the director might have just as easily hit the Autopilot button and gone to sleep for a couple of months.
Gladly I can report this is not the case, and it's obvious Mike has invested as much commitment as his superb cast. It's as much thanks to his assured wrangling of the leads that what is essentially a very bleak tale of downright emotional torture manages somehow to be, if not exactly uplifting, so honest, challenging and utterly compelling. While Marber's dialogue is frequently as sassy and insightful as Portman's Alice, Nichols' direction is the technical clone of Dan's painful honesty, with no tricks or flashy edits. Some might find the unheralded shifts in time a mite confusing, but personally I relished the fact someone was crediting me with some intelligence for once. And that's exactly what Closer is; a film by adults, for adults, that makes you leave the cinema in the realisation that yes, you are an adult. Bloody refreshing.
Allow me to award this movie 4 out of 5 Pleasant Disko Yoo-Nits.
Director:
Mike Nichols
Cast list:
Jude Law (Dan)
Julia Roberts (Anna)
Clive Owen (Larry)
Natalie Portman (Alice)
---