Narc
Jason Patric and Ray Liotta on career best form. Tough, gritty, brutal, brilliant.
Released in 2002, certified UK-18. Reviewed on 25 Mar 2004 by
Craig Eastman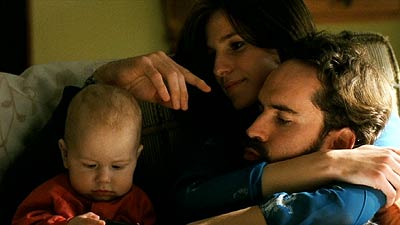 Nick Tellis (Jason Patric) is a good cop in a bad situation. Having spent months living as a drug dealer in an undercover operation, his work has culminated in a frenzied street chase and the death of an innocent bystander's unborn baby. Despite getting his man, Tellis has found that police bureaucracy can be more dangerous than his criminal cohorts, and is currently in investigative limbo as a departmental scapegoat. Mind you, when it suits his superiors he's offered a chance at redemption; the investigation into the murder of another undercover officer has gone cold. Find the killer of Michael Calvess and Tellis is off the hook with his choice of assignment anywhere in the force.
Narc certainly isn't the first drama to deal with the seedy side of police Internal Affairs; indeed it shares many aspects with such classic seventies fare as Serpico. First time major feature director Joe Carnahan has, however, managed to produce a film that feels fresh and new, backed up by some great production values and a cast who deliver career best performances. As Tellis begins his investigation, we are introduced to Calvess' partner Henry Oak (a beautifully psychotic Ray Liotta) who himself is introducing the head of an overly confident perp to two pool balls inside a sock. A man with a fearsome reputation, Oak is initially reluctant to accept the attentions of Tellis, but through the medium of shared investigative prowess, Nick begins to work his way under the big man's exterior, uncovering in the process doubts as to the true circumstances surrounding Calvess brutal demise.
There's only so much one can hope to achieve with a genre which has been bled so dry it'd require the entire reserves of a national blood bank to breathe life back into it's feeble figure. Narc somehow manages the near-impossible feat with an unnatural ease, taking the viewer on an often difficult journey through one of the most believably gritty cop thrillers in recent memory, if not the history of cinema. That it does so is no small miracle, though the reasons are there on screen for everyone too see, and no doubt a large number of film makers to admire. Taking it's cue from William Friedkin's tough, gritty style (a fact alluded to in one of the DVDs bonus features), Narc picks up the baton and runs with it at a frightening pace, dragging a staid genre kicking and screaming into the modern idiom of our times.
In terms of visual style Narc is a kinetic tour de force. From the opening handheld chase through decrepit streets and houses to the washed out, ice cold blues on the harsh city streets, the seedy realm of underworld drug dealing never looked so harsh nor threatening. Director of photography Alex Nepomniaschy deserves much praise for his stylings, showing mature restraint where lesser lensers might have gone overboard. Likewise editor John Gilroy whose pacy chopping compliments the largely handheld cinematography beautifully, seamlessly maintaining the audiences sensation of being in amongst the action.
Where the movie racks up a huge high score though is in the performances of the two leading men. Liotta is on such stunning form he arguably equals his turn as Henry in Goodfellas, whilst Patric is his reserved polar opposite, delivering easily the best performance of his career. As the unbalanced Oak, Liotta's physical presence stands out from the screen to an almost terrifying degree. Bulking up for the role and wielding his pump action Mossburg like a lumberjack sports his axe, he's only too believable as he demonstrates an uncanny ability to lose his temper in such spectacular fashion there's never any danger of coming across as unintentionally funny. His performance only goes to draw the best out of Patric, whose character becomes all the more sympathetic for standing up to such a monster of a man.
In a role that could so easily be overshadowed by Oak, Tellis is instead achingly believable as the once idealistic cop who has been increasingly soured by the depraved reality of his job. Even the cliche of his strained relationship with wife Audrey (Krista Bridges) seems oddly fresh as Tellis balances his crumbling home life with the sympathy he has for a man who, like him, was an undercover cop with a young wife and baby. Not so much bouncing off Liotta's performance as tackling it head on, Patric shows he is an underused actor of immense potential who, given the right material, can hold his own with any of the heavyweights.
Of course, weaving the elements together with bizarre assuredness is Carnahan, channeling some ethereal skill from what is presumably an alternate universe to deliver quite the most mature debut major feature in this reviewer's memory. Working from his own brilliant script, Carnahan's unnerving Jedi-like mastery of his craft might well be a fluke of epic proportion (his next feature, the incomparably commercial Mission: Impossible 3, should prove as testing a sophomore project as any), but for now let us rejoice rather than question, for it truly is a thing of religious proportions.
You will of course have guessed that I likes me some gritty cop thriller action now and again, and as such I am admittedly pre-disposed to hyperbole when discussing such genre classics as this and To Live And Die In L.A.. Unlike that movie though, Narc is unlikely to age so much visually as it relies less on it's contemporary iconography for identity, staking it's power instead in realistic procedure and stunning performances. As such, this reviewer for one believes that in a decade or two's time Narc will be ranked up there with Serpico and The French Connection as one of the defining cop thrillers of it's time.
Come the final reel's revelatory exposition, you'll feel as drained and emotionally invested as Patric's Tellis, and it's viewer involvement like that which is the hallmark of brilliant film making. Wether or not Carnahan can recreate such lightning in a bottle remains to be seen, but until M:I3 dies down and he can ramp up for something more serious, let us simply sit back with a stiff drink and brace ourselves for a sensory and emotional assault the like of which you'll seldom have the chance to experience. Don't be one of the many who have overlooked this.
No f**king nonsense; 5 out of 5
Director:
Joe Carnahan
Cast list:
Jason Patric (Nick Tellis)
Ray Liotta (Henry Oak)
Alan Van Sprang (Michael Calvess)
---