The Shape Of Things
Difficult to like, difficult to judge. Professional relationship cynic Neil LaBute strikes again.
Released in 2003, certified UK-15. Reviewed on 01 Dec 2003 by
Craig Eastman
Having stormed into the collective indie movie conscience with 1997s much-hyped vicious male psyche expos? In The Company of Men, director Neil LaBute has pretty much failed to produce anything with quite the vicious bite since. Nurse Betty anyone? Clearly he feels the need to redress the balance with The Shape of Things, an adaptation of his own stage play that starts out part romantic drama before spinning on a dime with one of the least expected (for those who haven't seen or read the play) endings of recent times. In fact it's this ending which is simultaneously the film's biggest asset and the factor most likely to render it unpalatable to a good proportion of the audience.
Evelyn (Rachel Weisz) is a feisty guerrilla art student whose post graduate thesis would seem to involve a particularly brash strain of art gallery terrorism. Adam (Paul Rudd) is the nerdy, overweight security guard who intercepts her attempt to spray paint the nether regions of a particularly expensive statue red, somehow plucking up the courage to ask her out along the way. Before long the pair are living out of each other's pockets, with Evelyn gradually bringing Adam out of his shell of insecurity and quite literally reshaping him as a born-again ladykiller, complete with cosmetic nosejob. Adam's friends Jenny and Phillip (Gretchen Mol and Fred Weller) begin to grow a little concerned as Evelyn's manipulation gradually threatens to ruin the bond of friendship; former room mate Phillip no longer to put Adam down so readily and girlfriend Jenny realising her past crush for him might be resurfacing.
The Shape of Things is an interesting beast indeed, proving to be compelling in parts, painful in others. Part of the problem lies in the structure; in adapting his stage play LaBute has taken the path of least resistance, relying on a smaller number of larger scenes to comprise the picture. While it provides a good sense of character development, the conversations allowed ample time to explore each individual's thoughts and opinions, it also numbs the bum a little, giving the movie a slightly more sparse overall feel than might otherwise be desirable. Still, if "a little less conversation, a little more action please" is your bag, go check out the devil spawn Roberts' Ocean's Eleven.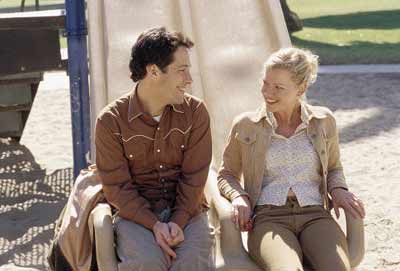 In accordance with it's board-treading genesis, LaBute's directorial leanings are put largely on hold, an emphasis on long single-take tracking shots born more of necessity than any kind of flair on the helmer's part. Instead LaBute wisely decides to let his talented cast take precedence, and it's the accomplished turns from the four players that provides much of the enjoyment the film has to offer. Weisz, a woman whose looks I generally prefer to her often-grating acting credibility, here puts in a bloody good show. Although by no means perfect, as Evelyn she delivers just the right amount of seductive smoulder whilst hinting at something a little more sinister underneath. Her gradual manipulation of Adam is obvious enough for the audience to share his friend's marvel at his metamorphosis, yet subtle enough that the clues to the shocking denouement lay unnoticed for the majority of the audience.
Mol and Weller both supply able character support within the limitations of their roles, but it's Rudd who steals the show. As Adam he embodies the nerd-come-good; an unwitting and unlikely sex symbol who is too nice and waaaaaay too naive to realise the impending demise of his newfound self-esteem. Like a rabbit caught in the headlights of first love, Rudd somehow maintains an innocent charm throughout the duration despite the odd hints at pretension formed by Weisz's occasional over-acting. Adam is the kind of fundamentally decent guy we'd all like as a friend, and it's the resulting audience empathy that forms the pivot of emotion come his time as Evelyn's artistic patsy. Without a central performance of Rudd's calibre here it's hard to imagine the film succeeding quite so amiably, and it's to his credit that the character of Adam pretty much floats the movie on his own.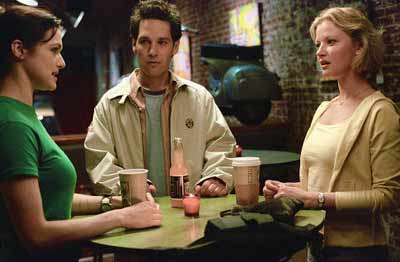 There are various reasons why The Shape of Things succeeds and fails in equal amounts, but come the final ten minutes there's only one reason anyone's going to remember this movie. Without giving anything away, it's safe to assume most decent-minded individuals are going to leave the cinema with a nasty taste in their mouths, and it aint gonna be anything to do with salted popcorn. Suffice to say the revelation of Evelyn's previously hidden moral ambiguity turns everything on it's head in a fashion that may prove thought-provoking to some, but downright hideous to most. It's a fairly subversive reminder that LaBute doesn't do romance, and something of a shock just when you were expecting a more comfortable resolution.
If nothing else, The Shape of Things provides food for thought to a society obsessed with the surface gloss of the opposite sex. That's not to say it's got anything new to bring to the table, it's just that it beats you about the head with it in a fairly novel way. Mr. LaBute's not one for pussy-footing around, and anyone too 'mainstream' to have experienced his particular brand of acidity before is going to wander into this movie without a care in the world, oblivious to what lies ahead. For this reviewer the most satisfying part comes after the credits, where one can imagine the director positively lapping up the dismay he's just created. Flawed, occasionally engaging, and in retrospect utterly intriguing. I still can't decide how much I liked it.
Disko has seen fit to award this movie 3 out of 5 Fab Weasels
Director:
Neil LaBute
Cast list:
Rachel Weisz (Evelyn)
Paul Rudd (Adam)
Gretchen Mol (Jenny)
Fred Weller (Phillip)
---