Legally Blonde
Decent comedy with an important moral at its heart.
Released in 2001, certified UK-12. Reviewed on 02 Aug 2003 by
Drew Tavendale
Playing very much as Clueless Goes To College, Legally Blonde is a lightweight comedy about Bel Air blonde Elle Woods (Reese Witherspoon), a fashion major at a mythical California university, whose most important contributions to the world thus far are becoming homecoming queen and being first runner-up in the 'Miss Hawaiian Tropics' beauty contest. From her room in the Delta Nu sorority house, of which she is president, she controls her pink, fluffy empire, surrounded by sycophantic lackeys equally obsessed by the shallow.
We first meet the (seemingly) vapid Elle, nearing the end of her time at the university, preparing for a date with her long-term boyfriend Warner (Matthew Davis), while her shrill friends (who are utterly annoying - you will soon wish for a gunman to burst in and mow them down in a hail of lead) offer encouragement. For this is no regular date - Elle expects tonight to be the night that Warner will ask her to marry him. It transpires, however, that this isn't quite what Warner has in mind. He has chosen this night to end his relationship with Elle for career reasons. "If I want to be elected Senator by the time I'm 30, I need to marry a Jackie, not a Marilyn," he heartlessly tells her.
Despite her 4.0 grade point average (admittedly in fashion merchandising) proving her more intelligent than mere looks would suggest, her greatest ambition in life seems to be to marry the man she loves. So, determined to get Warner back, Elle decides that he would want her if she were a lawyer, so sets about trying to get into Harvard Law School. Rather than write an admission essay, she produces an admission video, featuring Elle showing her formidable legal prowess and suitability for that great Massachusetts institution by wearing bikinis and discussing the shocking issues of toilet tissue that chafes.
Against all expectations, she is admitted (on grounds of 'diversity'), so sets off for the east coast with her pet rat Bruiser (it's allegedly a dog, but I'm just not buying it). Arriving in Cambridge she finds that things are not at all what she had expected - rather than the bright, shiny world she is used to, all is dark and serious, with judgmental fellow students and patrician professors who pre-judge her because she is blonde. The biggest shock of all, though, is that her beloved Warner has gotten engaged over the summer to New England socialite and vindictive bitch Vivian Kensington (Selma Blair), whose claws are bared from the moment she sets eyes on Elle.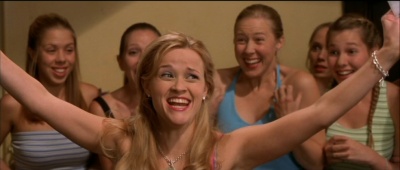 Realising now that she can no longer have her man, Elle decides instead to turn the well-known axiom "if you can't beat 'em, join 'em" on its head and sets out to beat him. Battling against anti-blonde prejudice, lecherous professors and regular humiliations at the hands of Vivian and her cronies, Elle proves herself to be more than mere looks would suggest - she displays a brilliant legal mind and becomes the top student in her class.
Along the way Elle performs various acts of kindness, including helping shy manicurist Paula (Jennifer Coolidge, perhaps best known as 'Stifler's Mom' in the American Pie series), who becomes Elle's confidante, to get her pet dog from ex-boyfriend and find a new man, while finding new love herself in handsome lawyer Emmet Richmond (Luke Wilson). Despite being a first year law student, Elle also helps defend famous fitness instructor Brooke Taylor (Ali Larter) in a murder trial.
Legally Blonde is a feather-weight confection with enough uplifting and funny moments to work. At its heart is an important message - that you shouldn't judge people by their appearances - that is so clear that even the most oblivious of viewers cannot fail to receive it. This makes the final sequence, in which Elle makes a speech to her graduating class with that very message, entirely superfluous, and rather diminishes the high point of Miss Woods victory in her court case.
First-time director Robert Luketic has done a reasonable job with Legally Blonde, but this unnecessary closing scene, along with definite indecision in his portrayal of the main character (making fun of her naivety while at the same time praising her pluckiness) and pointless asides, such as the music and dance routine in the beauty salon, lead one to wonder if, in the hands of a more experienced director, Legally Blonde might have been very funny rather than just funny.
The star of the show is, of course, Witherspoon, who is so bright, bubbly and energetic that all around her pale into the background. Managing to make you actually care what happens to Elle, rather than just hoping that she'll just go away (Elle's squeaky voice and shallowness make this a definite possibility), this film would probably not have worked with another star, and Witherspoon makes a strong claim to being a modern-day Doris Day.
I would have said that your enjoyment of Legally Blonde hinges on whether or not you like Witherspoon, but I write this on the weekend of the release of its sequel, Legally Blonde 2: Red, White & Blonde, and am thoroughly sick of Witherspoon and the hype surrounding her, but having viewed the original again, I still enjoyed it, so who knows? Far from the best comedy ever, it is still funny, and I would award Legally Blonde 3 out of 5 marks of goodness.
Director:
Robert Luketic
Cast list:
Reese Witherspoon (Elle Woods)
Luke Wilson (Emmet Richmond)
Selma Blair (Vivian Kensington)
Matthew Davis (Warner Huntington III)
Ali Larter (Brooke Taylor Windham)
Jennifer Coolidge (Paula Bonafonte)
---