Grosse Pointe Blank
Forget Identity, this is quality Cusack and no mistake.
Released in 1997, certified UK-15. Reviewed on 15 Jun 2003 by
Craig Eastman
Martin Blank (John Cusack) is not so much a hitman with a heart as a hitman with the sneaking suspicion something is missing in his life. Having left his home town of Grosse Point, Michigan ten years earlier after graduating high school, he's since been in the army, shown a tendency for 'moral flexibility' and set up shop way out West as a highly successful professional killer. So far he's never looked back, but now he's getting tired. Hounded by fellow assassin Grocer (Dan Aykroyd playing against type in a role that put him back on the map) to join his 'union' before any inevitable job overlaps lead to a less-than-subtly implied demise for Blank, he decides to take on the tried and tested 'one last job' before quitting for good.
As luck would have it, this job, owed to an angry employer for an unintentionally botched hit (thanks to Grocer), will take Blank exactly where he doesn't want to be; Grosse Pointe Michigan on the eve of his 10 year high school reunion. With no choice but to take the job in order to make amends, Martin faces the terrifying prospect of confronting his old flame Debi Newberry (Minnie Driver) and explaining exactly why he stood her up on prom night ten years ago. Added to this challenge are an unhappy Grocer from whom the job has been stolen by Blank, some government spooks looking to set Blank up for a fall as part of a new 'get tough on terror' campaign, and a mysterious assassin working for a previous target of Blank's whose dog met an explosive end and now wants revenge. Crikey; what's a killer to do?
Grosse Pointe Blank may have a silly, contrived title and a clich?d 'one last job' aura surrounding it, but there endeth the bad points. Something of a sleeper hit in the States upon it's release in 1997, GPB (as I shall refer to it from now on) is an unlikely yet hugely deserving success story, as unusually for this kind of film, it is extremely witty and deftly intelligent. Working from a wicked script partially credited to Cusack himself, director George "low profile" Armitage crafts a fly beast of a movie, aided by a uniformly superb cast.
Cusack as Blank is on top idiosyncratic form. A man plagued by stress, he's equal parts killer and comedian. Unflinching in his termination of criminal scum, yet unable to escape his desire to rectify past mistakes, Blank looks and behaves like an eccentric middle class everyman with home problems. Only thing is, Blank no longer has a home. On visiting his old house in Grosse Pointe he finds an Ultimart shop standing in it's place. His immediate reaction is not to phone a friend or relative but rather his poor, put-upon psychiatrist Dr. Oatman (a quality turn from Alan Arkin). Typical Blank, and typical of the dark vein of intelligent humour that permeates the movie.
As much as it is about whacking unsavoury sorts for money, GPB is also about relationships. The greater part of the movie actually revolves around Blank's efforts to restore the former dynamic with his lost love Debi. Anyone who doesn't like Driver's kooky style isn't going to suddenly love her because of this film, but here she manages to be less irritating than usual. Her personal traits actually benefit the character of Debi, and it's easy to feel the chemistry between she and Martin, mostly because they are so obviously suited to one another as a pair of eccentrics.
There's a great sense of history between the pair, helped along by their interaction with various past schoolfriends in town for the reunion. Paul Spericki (Jeremy Piven) is a real estate agent and old chum of Martin's who shows him around town, Bob Destepello (Michael Cudlitz) is a drunken old nemesis with a line in crass poetry, and Cusack's sister Amy even pops up as another old friend Amy, all adding to the sense of a couple much liked and all the more mysteriously parted.
Speaking of sisters, Joan Cusack also appears as Martin's assistant Marcella. Even more neurotic and off-the-wall than her employer, Marcella is a quirky force of nature with an odd dress sense who is just as happy divulging soup recipes to friends over the phone as she is barking orders for a thousand rounds of 9mm subsonic. A law unto herself, Marcella is another great character in a cast of many, all consummately brought to life by some very talented actors and a director who wisely lets them play it with just the right amount of improv.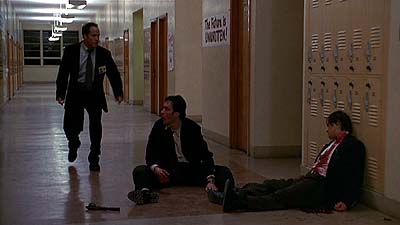 There's nary a boring character in sight, and Blank's adversaries are just as diverse. Aykroyd is top quality as Grocer, and his career rightfully regained it's momentum after his turn here. Uncharacteristically dangerous, Grocer is a foul-mouthed, nervous killer who one senses does his job as much for fun as for the money. Stealing most of his scenes, Aykroyd was brave to attempt the role and it pays off wonderfully. Likewise his support from C.I.A. spooks Steven Lardner and Kevin McCullers (Hank Azaria and K. Todd Freeman) leads to numerous humorous asides and encounters with Martin. Things really hot up, though, when Benny "The Jet" Urquidez arrives in town as Felix LaPubelle, the man charged with exacting revenge on Blank for the death of the aforementioned unfortunate mutt. The face-off between the two culminates in a highly satisfying and realistically staged unarmed fight between the two at the school reunion.
I'd be wasting my time asking you to guess whether or not Blank gets the girl, beats the bad guys and rides off into the sunset a happier man, but that's not the point. GPB's emphasis isn't on the destination, it's on the journey there, and what a journey it is. Compared to Cusack's recent concession to commercial pop-cinema Identity, this is an off-beat treat full of sinful pleasure. The script is tight and witty, the direction slick, the action frantic and the romance engaging. En route it even finds time for some touching moments of humanity, such as Martin's visit to his demented mother in a care home. Top it all off with a brilliantly rounded cast of intriguing characters and Grosse Pointe Blank is a hugely rewarding cult classic to be. Lightweight entertainment doesn't get any better.
El Disko, he say 4/5.
Director:
George Armitage
Cast list:
John Cusack (Martin Blank)
Minnie Driver (Debi Newberry)
Dan Aykroyd (Mr. Grocer)
---